"Congratulations on winning the award for the Christies Beach High School STEM Centre.
We are proud of the team involved and particularly pleased you have been duly recognised for this outstanding project.
I'm also really pleased our association continues with a new project launching next week."
Graham Clark
Principal - Christie's Beach High School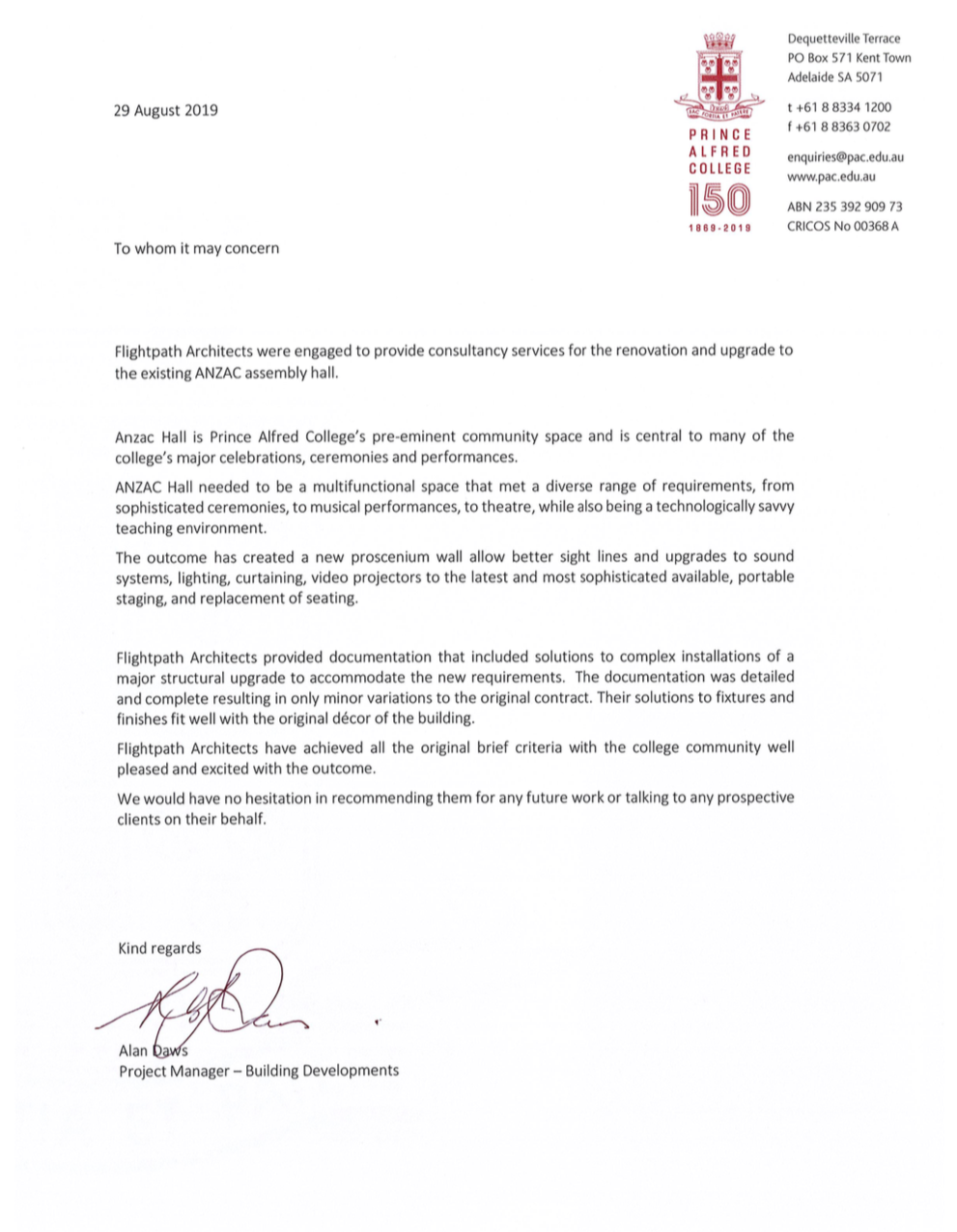 "Flightpath Architects have achieved all the original brief criteria with the college community well pleased and excited with the outcome. We would have no hesitation in recommending them for any future work or talking to any prospective clients on their behalf."
Alan Daws
Prince Alfred College – Anzac Hall
"I have enjoyed working with Flightpath Architects on this project. They are very diligent group of Architects and produce an excellent standard of design detail and documentation which has led to various awards. They are always quick to respond to issues and deal with them quickly and positively."
Steve Hope, Infrastructure and Property Manager
James Brown Memorial Trust – Clovelly Park

"I am personally honoured to award Douglas Alexander the 2018 Sir James Irwin President's Medal."
Mario Dreosti
South Australian Chapter President, Australian Institute of Architects
Happy Clients- Happy Architects!
"Flightpath has been a very professional provider of architectural services, seamlessly allocating staff expertise to the various project phases while keeping watch over the delivery of the overall intended objectives. The School appreciated the high level of communication provided and the relationships built.
It was a pleasure to work with Flightpath. I would readily recommend Flightpath for further school building works projects and work."
Bob Thiele, Principal
Hackham East Primary School
"We cannot thank the Flightpath team enough for sharing our vision and bringing their skills and enthusiasm along the journey with us. Thank You."
Deb Grzeczkpwski, Principal
O'Sullivans Beach Primary School
"It is with great pleasure that I write to congratulate you on being presented with the Sir James Irwin President's Medal. Your Practice, established over three decades ago, has had a significant and ongoing impact on the Architectural community in Adelaide and has played a vital role in the protection and adaptation and re-use of many of South Australia's wonderful heritage buildings.
Flightpath has also been recognised for its ongoing role in actively mentoring students and graduates and imparting significant knowledge which will benefit their careers and the design community at large.
Thank you for your ongoing contribution to the City of Adelaide."
Martin Haese,
Lord Mayor of Adelaide
"Congratulations on being awarded the Sir James Irwin President's Medal.
In addition to being a leader heritage architecture, with a passion for environmentally sustainable design, your willingness to mentor and support the next generation of South Australian architects should be commended.
Congratulations on this well-deserved recognition and achievement"
Honorary Steven Marshall MP
Premier of South Australia

"It's no wonder Douglas is regarded as one of the top architects in Adelaide. The quality of his work speaks for itself.

I couldn't recommend Douglas or Flightpath Architects more highly.
Thanks again team – you have clients for life!"
Daniel Gold
Eastwood Residence